Finding Middletown was the first thing I did when I came to Delaware for a visit in October 1995. I spent six years of my childhood in Delaware and a few years as an adult, but I had not heard of Middletown. I watched a movie when I was living in Southern California and I thought, "Where is that? The scenery a canvas so natural with broad fields, white with snow or barren brown in winter, sweet green in summer, and thick woods, and a pond pristine in its beauty." It seemed the perfect place for a poet and a curious wanderer such as I. The movie was Dead Poets Society, and it was filmed in 1989 at St. Andrew's School in Middletown.
In 1928, when founder A. Felix duPont purchased the 360-acre Comegys farm, he purposefully selected a site some distance from urban and suburban life. Then, that site was a comfortable two miles from Middletown and, since he, himself, was a rower, on a body of water suitable for rowing. Noxontown Pond, which Thomas Noxon dammed for his grist mill around 1740, shapes the heart of the campus. Over the years the trustees have expanded the buffer zone to include the present 2,200 acres.
St. Andrew's School has long been committed to graduating young men and women with a deep commitment to environmental stewardship. The mission of the 270-student Episcopal secondary boarding school states "St. Andrew's is committed to the sustainability and preservation of its land, water and other natural resources. We honor this commitment by what we teach and by how we live in community and harmony with the natural world."
The campus is a protected wildlife habitat covering a broad share of the Appoquinimink watershed. The campus is situated on what has become the largest open green space in New Castle County.
"St. Andrew's serves as a model, like a table-top model an architect would make." said Michael McGrath, then Delaware Department of Agriculture director of farmlands preservation for the state in 2007, now a member of the American Institute of Certified Planners (AICP) and secretary of the Philadelphia Society for Promoting Agriculture. "It is a microcosm of the world," he went on. "It is in itself a little village. The school has to deal with sewage, water; they live there, eat there and they are surrounded by farmland. They have to be self-examining, reflective about suburban agriculture and sustainability."
Yet, today, with unsettling property rights trends kicking up, it could happen that, notwithstanding the founders' and trustees' foresight, "Someday Rodney Point [on the campus] might look like a good candidate for open space acquisition via eminent domain," wrote St. Andrew's alumnus Tim Abbot in a St. Andrew's Magazine Winter 2007 essay.
Paving Paradise: Overnight, the impervious surface has spread to the edges of the pastoral campus that served as the setting for  Dead Poets Society, rendering the campus as what Headmaster Tad Roach terms a precarious outlier. At the time that movie was filmed, the population of Middletown was around 3,800. By 2020, housing starts are expected to spawn a population of more than 30,000.
Housing rising out of former farmland rushed at St. Andrew's gates, rapping at their door, perched to stay, its prophetic plume ravenous, gobbling up acres of farmland.
Throughout the school's history, St. Andrew's students have done daily farming chores, raked leaves, played football, lacrosse, whiffleball, engaged in rowing competitions on the pond, tended an organic garden, adorned tables in their dining hall with flowers they had grown, picked and dried, engaged in community service, enjoyed mountain camping trips, or simply sat on the T-Dock on the pond and contemplated the ripples in the water glinting rose and gold in the sunset.
In his September 9, 2006 convocation address, Dr. Peter McLean, environmental coordinator and biology and environmental sciences teacher at St. Andrew's, encouraged students to appreciate "what is most significant in our lives; that is, to appreciate what God has granted us – each other, and a beautiful and remarkable natural world. So continue to sit and contemplate," he said, "appreciate the silence, breathe slowly and deeply, focus inwardly. For in so doing, appreciating yourself begins. For me, it best happens in front of a stream or ocean or fire, or after a long run or hike or from just being outdoors; I find such solace and truth there as nature has such integrity and beauty."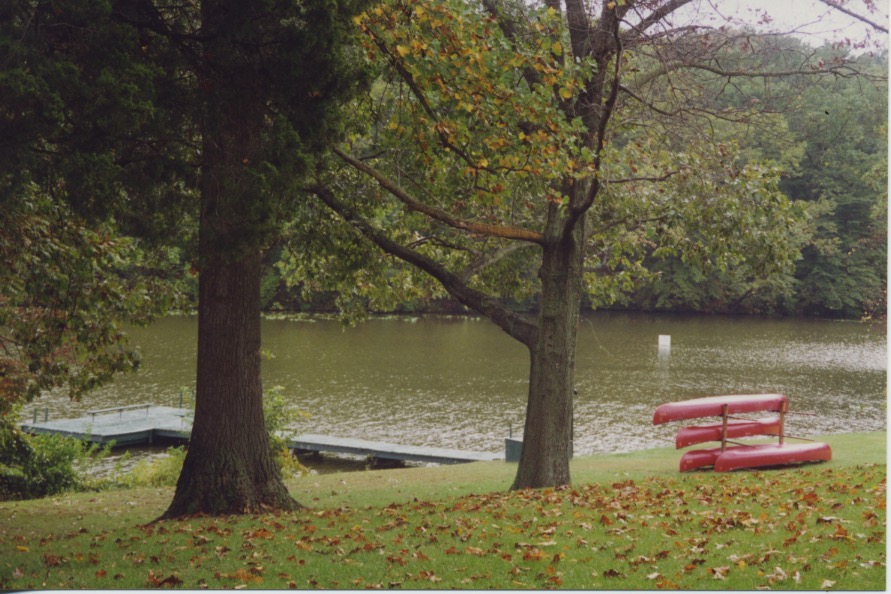 And, indeed, it is not uncommon to find a math class held outdoors under a river birch.
Twelve years after I visited the campus that first time in 1995, I published several newspaper and magazine stories about the school. In keeping with their rigorous curriculum, for research material they sent me home with stacks of books and other publications they lent me, and I had the honor of attending classes with the students and eating dinner in the dining hall on family night followed by attending a chapel service.
Thus, I contemplated what would be the verse I will contribute to life. I contribute by my pen, my sword in life, so I offer you this story for your own ruminations. For, you see, the ravaging of our environment first hurts the poorest of the poor.
The title of this post comes from the subject of a Walt Whitman poem, that Dead Poets Society's John Keating quotes for his students, from Leaves of Grass.
We don't read and write poetry because it's cute. We read and write poetry because we are members of the human race. And the human race is filled with passion. And medicine, law, business, engineering, these are noble pursuits and necessary to sustain life. But poetry, beauty, romance, love, these are what we stay alive for. To quote from Whitman, "O me! O life!… of the questions of these recurring; of the endless trains of the faithless… of cities filled with the foolish; what good amid these, O me, O life?" Answer. That you are here – that life exists, and identity; that the powerful play goes on and you may contribute a verse. That the powerful play *goes on* and you may contribute a verse. What will your verse be?
–Samantha Mozart