In the summers of the 1990s when the farm stand where I worked in Naples was closed I worked on Marco Island for a real estate rentals agency.
Marco Island is known for its crescent shaped beach of sugar white sand. I took these photos at the south end of the island. I'll always remember the sailboats out on the sparkling Gulf during the day, the gentle morning rain on the Marco River as I drove across it to work, the peaches and pinks of a Marco Island sunset on a summer evening.
Inhabitants of Marco Island differ from those of Naples. They come mostly from the Mid-Atlantic states and are laid back, come to Marco to beach and boat in winter and then go back home to Jersey and Delaware shores to beach and boat in summer. Marco Island lies just south across the Big Marco River from Naples. It is one of the Ten Thousand Islands and has a total area of 22.8 square miles. In the early 1900s a clam digging industry and two canneries thrived here, on the south end of the island at Caxambas Pass. On Caxambas Island I climbed Indian Hill, the Calusa Indian shell burial mound. Flying tribes of big, black salt marsh mosquitoes attacked me. When you swat them, they spring back. Think what you will about the spirits of the dead. I got out of there.
The above is a view of Caxambas Pass from Indian Hill.
Marco Island, situated in the Gulf of Mexico 90 miles west of Miami and 157 miles south of Tampa, is built upon a cluster of mangrove islands. I've seen overhead photos of when Marco Island, as such, was not there, just the green mangrove islands in the blue water. The Atlantic Coast Line Railroad ran across to the island from 1927 to 1944. Major development took place on Marco in the 1960s, led by the Mackle Brothers of the Deltona Corporation. My mother and stepfather owned a home here in the 1970s. As a result of the development across these mangrove islands, many Marco Island homes sit on waterfront properties with boat docks, connected by a series of canals leading to the Gulf, and when you drive around the island you go over a lot of little bridges.
Sea oats on Tiger Tail Beach at the north end of Marco.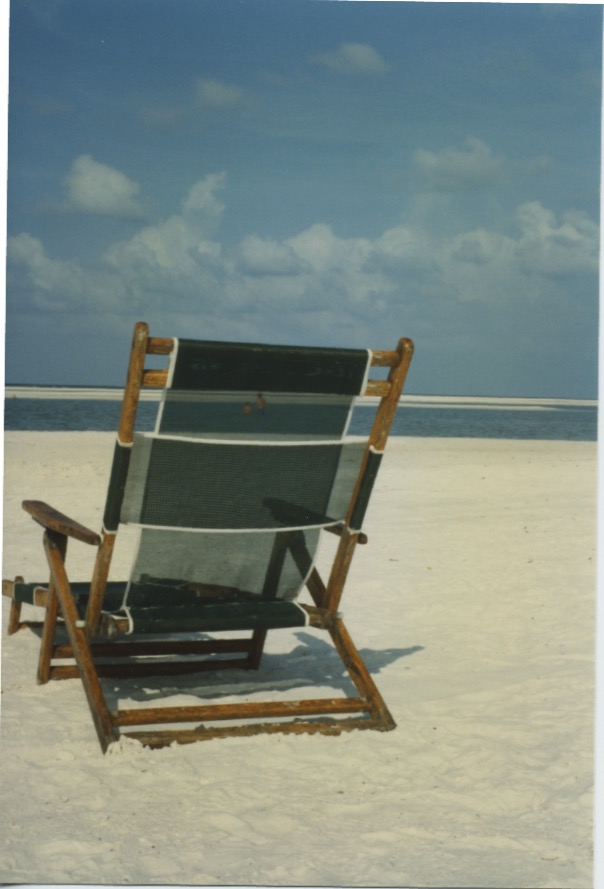 This chair is reserved for you.
Yet what you see next fascinates me more than anything in the region — the sinking Cape Romano, once on the southern end of Caxambas Island, connected by road, is now only accessible by boat. See more photos and read the story about these mysterious dome homes. This vintage photo below is copyright Kristian Maples.
Photo taken around 1982. Once there was an exhausting walk to the beach, they say. Successive hurricanes took their toll.
Photo in 2014, above, from messynessychic.com.
Below, from the Coastal Breeze News,  printed on September 7, 2012, from an intriguing story of this house, titled "Cape Romano Uncovered" — are photos of before and after. Two other houses on Cape Romano are of note, a stilt house and a pyramid house.
I am deeply intrigued by this story, infinitely fascinated. This part of Southwest Florida holds an enigmatic quality that only the natural elements and those who live there know, like they're all part of some secret cult, a collective with a discrete shape of mind. Maybe it's just the humidity. However, if you are so compelled to learn more, you can see many more before and after photos plus videos and family and news stories on the Cape Romano Facebook page, on the Abandoned Florida website, and on the blog of Kristian Maples, grandson of dome homes designer Bob Lee.
Talk about having that sinking feeling….
–Samantha Mozart