In 1960 Emma took in her Aunt Mary, who was 80 and physically declining. Aunt Mary was a kind woman and Emma had spent her summers with her during her childhood and teen years, coming down from West Philadelphia to Aunt Mary's bungalow, with the little roadside produce stand and the blue hydrangeas beside the wooden steps up to the screened porch, on the little farm across Absecon Bay from Atlantic City. Emma dressed the farm cats in doll clothes and went to the beach with friends and cousins, where one year she got an awful sunburn resulting in sun poisoning.
Emma and I were good friends, mostly, but this one evening when I was at her home we had a terrible argument. It was dinnertime. Emma had just gotten home from work at her secretarial job and she and my stepfather were in the kitchen preparing dinner while she also attended to her small kennel of toy poodles she raised and showed, one becoming a champion.
After the argument, I carried Aunt Mary's dinner in to her. "Don't fight with your mother," she said. "Be kind to her. Be kind to your mother." The compassion in her gentle tone touched me heart. "Always be kind to your mother. Otherwise you may regret it someday."
Emma's love for the sand, surf and the regenerating pine and salt air of the Southern New Jersey shore never ebbed, and she bought a summer home right on the beach in Avalon, south of Atlantic City. To this day, her family — children and grandchildren — and her friends (those still living), whom she hosted over weekends, cooking all the meals herself, reminisce about the Avalon house and the fun times we had there.


You could take long, meditative walks on the Avalon beach.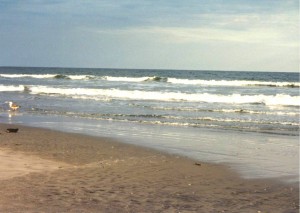 After Emma and I moved into our Victorian home in central Delaware in 2002, I continued to work, at a hair salon and writing newspaper and magazine feature stories. One night I came home and she said, "There's something going on out there. Something's wrong. I've been looking out the back window upstairs and the sky's all red. What's happening?"
"It's just the lights of the stores over on the main road reflecting off the clouds," I explained, though she wasn't totally reassured.
Soon after that, I asked her why she didn't finish her daily newspaper crossword puzzle. She said, "Oh, I don't know. I just didn't feel like it."
Some evenings I worked in the hair salon until seven or seven thirty. I would tell Emma in the morning that I'd be late coming home. By 2007, she'd greet me angrily as I came in. "Where have you been? Why don't you think of me, waiting here alone for you?" It was just she and her sweet,  blue, teacup poodle, Jetta, sitting on the loveseat in the living room, waiting.
She still played her electronic organ, with the control panel, all lit up, bearing a grand resemblance to an airplane cockpit instrument panel. She read the sheet music. She had played piano most of her life, teaching it before she married, and she taught me.
I quit my hair salon job, as soon as I reached 65 and could collect Social Security; Emma needed someone with her fulltime. I continued writing, though.
Around then, for her birthday, I bought Emma a sketch pad so she could keep painting her watercolors that she framed and exhibited all around the house and had painted as gifts for friends; she painted a red rose for me.
One day she sat in the chaise lounge in the corner between the windows in her studio upstairs and began a sketch of a woman's head. She laid down the pad and pencil and never returned to the sketch. That was her last drawing.
Story and Avalon, N.J., photos by Samantha Mozart