By
Jean Raffa
(Ed. note: Roll your mouse over these lovely images to see the identification; click on an image to enlarge it.)
It's a gray winter day in the mountains. We arrived for our annual holiday visit the day after Christmas hoping for snow, but the weather's so mild that the windows are open. Over the roar of the creek, swollen from a solid week of rain, a single crow caws somewhere nearby. Welcome home, she says.
Downstairs the grown-ups are finishing a jigsaw puzzle we've been working on since summer. The grandchildren are playing a video game. I'm upstairs writing this, my heart warm with the comforts of home, family, and love.
This place, this now, this beauty. These tears of wonder and overflowing gratitude. My simple awareness of being at one with myself, my family, and my life is the grace and blessing of the Self—my portal to the Sacred—a moment that needs no words. Yet now I am searching for words to fill this page. I don't fight it. After all, part of the Self—my sacred core and circumference—is a writer and another part is a teacher. And I'm trying to figure out what to write about for my next blog post.
Listen to me, the crow caws insistently. I hear you, I silently answer. You, too are part of me, part of the Self. I look out the window in its direction, past the skeletons of maples and buckeyes, the fluttering rhododendron leaves on the mountainside glistening with droplets of rain. What words could possibly be a clearer statement of the sacredness of life than this?
I haven't always had this awareness. My soul has expanded very slowly through the years and, to quote Robert Frost, "I have miles to go before I sleep." At the beginning I had to want to know the truth about the puzzle of myself more than I wanted to protect my ego. Then I had to let down some of my ego's boundaries. Had to stop saying no and start saying yes. Had to admit I can be wrong. Could be hurt. Could need somebody. Could be showing the world a false self. Could be afraid. Angry. Selfish. All that took a while.
Eventually I liked the insights my self-reflections were bringing so much that I searched for a regular practice to bring more. Discovering dreamwork felt like striking gold. Metaphorically, that's exactly what it was. That vein of gold led to more veins: the gold of self-validation, finding my passion, revitalization, synchronicity, adventure, joy. Some veins led to my dark shadow, others to my light shadow. Some, to my anima and animus—Jungian terms for my unconscious feminine and masculine sides. A few veins have gone deep enough to encircle my Self.
A soul needs time and reflection to heal and grow. I've practiced dreamwork for 28 years with no end in sight. Which is good, because I never want it to end … even though lately I've been dreaming of my self-critical bully: a bossy chef, a menacing sniper, a criminal holding people hostage with a gun and a baseball bat, a rude and haughty boy. I consider dreams like this to be necessary wake-up calls along the way. The craziness of the holidays can do that to a person and I've learned that I have to recognize what's going on inside me before I can do something about it!
Last night I lay awake counting the number of people I've hurt over the years, sometimes out of self-righteousness, sometimes thoughtlessness. I was appalled at their number. Another necessary wake-up call.
Yet on Christmas night and the next two nights I dreamed about a large Christmas tree ornament, a sparkling diamond and gold ball that was being clarified and perfected and completed. And so were my understanding of it and my words about it. Somehow, I was it and it was me.
Orbs and circles are images of the Self. So are diamonds and gold. Soul-making is humbling, but an occasional dream image like this speaks to the infinite rewards of inner work. Every day I see my self-criticism backing off, my frustrations softening. Trust has pretty much replaced worry, and grace flows through more often, revealing the sacred river of life and love that runs beneath and through it all.
It's time to finish this and rejoin my family downstairs. Fred's got a fire going and my favorite new book of poetry, Coming Home, by Jamie K. Reaser, awaits me on the chair in front of it. Thanks to her I'm learning how to talk to crows. It's the perfect book to feed the fire growing inside me and keep the river flowing toward home.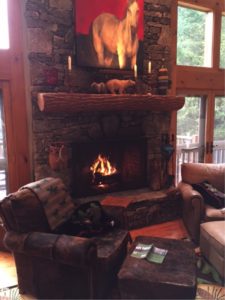 Reading and writing also keep me aware and connect me with my spiritual home. So does meditation. I used to set aside certain times of day for these practices, but these days I usually just go with the flow.
Here's an example. Fast forward to another day. The holidays are over and I'm back home, considering what to write about for my next post. I notice the Goethe quote on my coffee mug: "Nothing is worth more than this day." I feel the truth of this deeply, but wonder if I really understand it or can express it adequately. I want to try.
So I close my eyes to feel the life in my body and follow my breath. Tiny tinglings all over … chest and belly rising and falling … an airplane humming overhead … the solid floor beneath my feet … the warmth of my clasped hands … the softness of my velvet robe.
I open my eyes and look out the window at the stand of bald cypress trees. I watch the soft sway of their gray Spanish moss beards. I wait … for what I don't know. I smile. It's a relief not to need to know. A dragonfly flits by. Cottony clouds with dove gray undersides sink slowly below the cypress canopy.
I remember the brilliant cardinal that kept dropping by one day last week to peck at the window, either flirting with its image or trying to pass through the sky's reflection. Or was it there to bring me a message?
I googled the symbolism of cardinals and found this: [The cardinal] "reminds us to hold ourselves with pride—not ego pride. Rather, the cardinal asks us to stand a little taller, be a bit more regal, step into our natural confidence as if we were born to lead with grace and nobility." Good advice. But that was a few days ago and I'm trying to empty my mind, so I return to this moment.
Other random thoughts intrude and I invite them to float on by so I can stay present. I realize I'm hoping to close these musings with some sort of sign or synchronicity I can share in my blog to prove how rewarding just appreciating this day can be! But nothing is showing up and I'm running out of writing space.
As I write these words a cardinal darts by … is it my cardinal? I feel a jolt of recognition, a meaningful connection between the passing bird and what I'm thinking. Another message from the Self?
And then I see it: my ego's influence over my meditation and writing. My ego wants a sign it can use to be impressive, but my soul just wants to be! And just as I was thinking this the cardinal passed by. I guess I did receive a sign and a message after all: ego pride! Oops.
I smile and let it be. Self-knowledge is healing but self-criticism erodes my confidence and robs me of this moment. Simply being aware of everything, including my baser tendencies, is the true value of this day.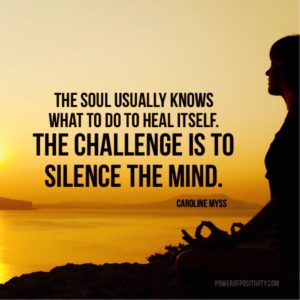 Sometimes just being out in Nature brings on spontaneous contemplative states that connect me to the river. For example, on another day my son brings Izzy, his four year-old golden retriever, to our house. We will dog-sit until his family returns from their winter vacation. She'll be with us for five days. I love this dog, but she's not easy. She's big, rambunctious, needy, slobbery, demanding of attention. Will the time and attention I'm willing to spare be enough for her? I hope so.
We take a little walk. She sniffs around, does her business. Good. We return to the house so I can work and she can rest.
It's evening. I feed her and leave for my ukulele lesson. When I return home Fred says our daughter has invited us to join them for dinner at their favorite Italian restaurant. We are delighted. Izzy will be fine alone for a while. She's been here many times. I give her a treat, tell her we'll go for a walk when I get home, say goodbye.
Over dinner our granddaughters recount last week's accomplishments. A perfect score on an important math test. A thrilling promotion from the junior varsity to varsity softball team. Does anything feel better than the deep love and connectedness we feel for each other?
Back home, Izzy wakes up from her nap on the kitchen floor. She looks up at me, tail thumping, waiting to see what's next. I wrap her leash around my shoulders, stuff a green doggy-waste-bag in the pocket of my blue jeans, and we step out the front door. Our little neighborhood is small and secluded so the leash is just a back-up plan in case we run into cars or other late-night dog-and-human-walkers.
I love being outdoors at night. The fresh cool breeze off the nearby lake. The quiet. The shadows. The open space. The peace. No people to talk to. No cars to avoid. A few pale street lights … just enough to keep Izzy in sight. The pleasure of giving her this time outdoors, knowing she's enjoying it, feeling confident and secure because I'm here with her.
She stops in the middle of the road, sniffing road kill. It's too dark and the creature's too long gone to tell what it is. Was. Osprey, raccoon, opossum, squirrel? I look at the stars, happy to wait, enjoying her pleasure. She glances back at me. I step forward, so does she. We move on to the next olfactory infusion. She stops, transfixed. I stop, transfixed. Does she remember I'm here, or is this new smell her entire universe right now?
We walk on. She sniffs something else, looks back, reads my body language. It's okay. You're okay, my relaxed body says. She understands and moves on. I'm still her lighthouse. I follow her lead knowing we're connected as surely as if she were on a leash. Gratified that we trust one another so much that she doesn't have to be tied physically to me. Pleased that she's free to follow her nose. Humbled that we're so acutely aware of the significance of each other.
We approach a crossroad. She looks to the left. Looks to the right. Looks back at me. Starts off to the right. No, I think. Left toward the lake is better. No traffic that way. She'll be safer. I whistle one note. She freezes. Glances back. I point to the left. Just a slight movement of my arm and index finger. She turns around and goes left.
I feel a surge of joy. This moment. This connection with Nature, this utterly delicious intuitive knowing. This trust between two animals who have such different languages and ways of processing life.
So different, and yet … we see each other. We know each other. In some invisible way we are touching each other, our minds sharing the same time and space. It feels magical. Miraculous. We're part of a mystery so vast my mind can't encompass it.
But, oh! I can enjoy it. This night under a starry sky. This dog who trusts me, who I trust. This connection to the unknown. I'm filled to bursting with wonder, gratitude and love.
Slowing down our monkey minds to notice what's happening in and around us reminds us that we have bodies through which we can appreciate and connect with the magic and mystery of being alive in this exquisite world. Seeing the silhouette of a towering cypress tree against the pale moonlit sky. Feeling the soft caress of a cool breeze. The warmth and weight of an animal or person who loves us.
Nothing we do can make a greater difference to ourselves, our relationships, and the world than simply being conscious of, and grateful for the miracle of life. Because the love, joy, peace, trust, gratitude, and wonder we feel are prayers, messages to and from the Self: the healing river of life that runs beneath everything and connects everything. And when we come home to that, we can't help but choose love more often, no matter what's happening.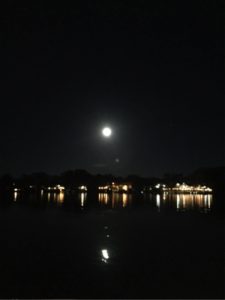 ---
Jean Raffa is a former teacher, television producer and college professor who, with the help of Jungian psychology, began following her passions for self-discovery and writing during mid-life. Her books The Bridge to Wholeness, Dream Theatres of the Soul and her newest Wilbur Award-Winning book, Healing the Sacred Divide, can be found at this Amazon link. Her blog, Matrignosis, is at http://www.jeanraffa.wordpress.com. Her facebook address is http://www.facebook.com/jeanraffa, and her website is http://www.jeanraffa.com.
^^^